LA LIBERTAD - TRUJILLO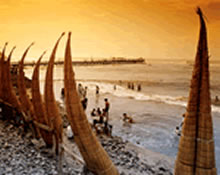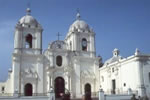 TURISTIC PROGRAMS IN TRUJILLO
:: LA LIBERTAD - TRUJILLO
Capital: City of Trujillo
Altitude: 36 m.a.s.l.
Distances:
Lima 500 kilometers
The province of La Libertad is located in the Northern part of the country. Its relief is very varied with coast, sierra and jungle.
Trujillo is one of the most notable and cosy cities of Peru.
The kind and open spirit of its people is famous as is its varied and delicious food. On its busy streets, filled with little stands, you can visit several vice-royalty monuments.
In Trujillo, the African dances (brought by the black slaves) and the Spanish dances fused tightly. From the fusion emerged: la marinera, el tondero and la resbalosa.
The city is known as the capital of la Marinera, and it celebrates during January a well attended National Festival. Trujillo is home of the "paso horses" unique in the world and of its elegant horse-dealers with ponchos of linen and hay hats.
In Trujillo it is interesting to visit:

:: CITY TOUR TRUJILLO
Visit to the colonial houses, the cathedral of Trujillo and others. Trujillo is called "The Eternal ciy of the Spring". Visit to the Beach of Huanchaco, located at 11 kilometers from the city of Trujillo, famous for its seafood and its handmade boats from the Mochica: the little totora horses.

:: CHAN CHAN RUINS
They are located at 4 kilometers from Trujillo. Capital citadell of the Chimu Royalty that houses 50 thousand inhabitants. It is considered the oldest clay city of the antique. It has streets, houses, water deposits, pyramids and all other facilities of an urban center. It was declared Cultural Patrimony of Humanity by the UNESCO in 1986.

:: PYRAMIDS OF THE SUN AND THE MOON
They are located at 8 kilometers from Trujillo. The pyramid of the sun is approximately 20 meters high. According to the tradition it was built in only 3 days by 250.000 men and 70 millon adobes. It was built with funeral, ceremonial and possibly administrative purposes.
The Pyramid of the Moon is made of temples which are superposed according to the different periods of the Mochicas. Archeologists have found a tumb with more than 40 sacrified warriors.

:: ARCHAEOLOGICAL SITE EL BRUJO
Located at 60 kilometers from Trujillo in the Valley of Chicama, county of Ascope. This site stands out for a pyramid of adobe that is 30 meters high on whose walls the Mochicas moulded a very rich iconography; the best-known sample is "Degollador de Cabezas" (Cut heads).

:: OTHER ARCHAEOLOGICAL SITES: HUACA ESMERALDA - HUACA DEL DRAGON OR ARCO IRIS
Huaca Esmeralda, adobe pyramid located at 5 kilometers from Trujillo. Archeological site that dates back from the Chimu Culture. Huaca del Dragon o Arcoiris, adobe pyramid located at 8 kilometers from Trujillo. It is considered the first settlement of the Huari Culture. It has an estimated age of 1100 years.