MANU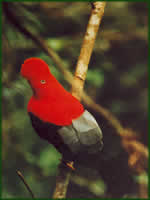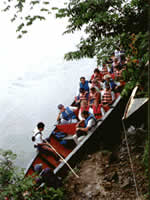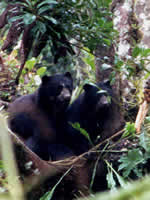 MADRE DE DIOS / CUSCO: MANU
National Park of Manu, located at 650 kilometers from Puerto Maldonado. It has a surface extension of 1.532.806 hectares. It was declared Biosphere Reservation in 1977.
Currently it is divided in three management cathegories:
- National Park (considered intangible zone).
- Reservation Zone of Manu (apt to eco-tourism).
- Cultural Zone in Bajo Manu (with a native population of 41.394 habitants).

MANU NATIONAL PARK - INTANGIBLE ZONE
This is the biggest part of the Park, covering an extension of 1'800, 000 hectares of pristine forest.
A few protected areas in the world are as large as this Intangible Zone and non of them is as pristine as rich in wildlife species.
In this area tourism is not permitted and for that matter any other activity, except Scientific research at the Biological Station of Cocha Cashu where for the last 25 years peruvian and international scientists have been conducting investigation projects on flora and fauna.
There are serveral ethnic groups such as Matshiguenkas/Kugapacoris, Yoras/Yaminahuas, Mashco Piros, Amahuacas and others, some of this groups don't have any contact with the outside world.

RESERVED ZONE
This zone which runs along both sides of the Manu River, covers a vast extension of primary forest is dedicated for only two activities: tourism and research.
Being the river the only possible access to this area it is relatively easy to control and protect it from no authorized visitors and poachers. Scientists consider this area as a living laboratory because of the mega-diversity in flora and fauna.
- Lakes
Ox-bow lakes are old remnant river courses, cut-off from the main river by the effects of erosion and the constant shifting of river canals. On the Manu river we can find several ox-bow lakes, two of them are frequently visited by us: Salvador being the largest one and Otorongo; which allow a relaxing view of the forest and marshland from a catamaran.
A lot of interesting animals live in and around these lakes: Black Caiman, Boa, a multitude of bird life, monkeys and the endangered Giant Otter. Beneath the surface live many hundreds of fish species, many small and colorful, others large and whiskered. Several species of piranhas also live in these lakes.
- Macaw Lick
On the Madre de Dios River about two and a half hours going down stream from Boca Manu town, can be founded the macaw clay-lick in the world hosting daily one of the most spectacular natural phenomenon in Amazonia.
After the first morning sun begin to hit the eroded river bank (actually a cliff face) hundreds of parrots and macaws belonging to ten or more species arrive and alight in nearby trees. They arrive in discrete couples or in groups of hundreds, depending on the species.

CULTURAL ZONE
The Cultural Zone is one of the three zones from Manu National Park which covers high mountains, cloud forest amd low jungle.
In this area there are small villages, setlers and native comunities working in productive activieties such as agriculture and lumber at a low scale, since this activities are controled by the Ministery of Agriculture and Park Authorities.
One of the porpouses of this controled area is to act as a buffer zone to the Reserved and Intangible Zones.
All lodges are located in this area.
PROGRAMS IN MANU NATIONAL PARK
Rundomundo can organize your travel in combination with different lodges located in the area that offers Complete Programas from 3 to 7 days:
LOCATION MAP
MANU NATIONAL PARK