HUANUCO - TINGO MARIA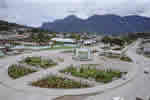 TURISTIC PROGRAMS IN HUANUCO TINGO MARIA
:: TINGO MARIA
The National park of Tingo Maria ("Bella Durmiente" - Beautiful Sleeper), is located 6 Kms. from the city, it is an important tourist center. In a route of 20 minutes you will arrive to the owl caves, a giant grotto, where you will find stalactites formations. Also you can observe a beautiful and panoramic view, an special place for the fans of the photography. In this place you will find another interesting place of sulfor waters, the house of drinks Bella, where there is the possibilty of tasting exotic drinks of the zone and visit its breeding ground.
In Tingo Maria it is interesting to visit:

:: WATERFALLS OF SANTA CARMEN
The waterfalls of Santa Carmen are located 25 minutes away from the highway, walking between the thickness of the forest. After you will arrive to the most visited waterfall of the place, composed of two wells, where you can have a refreshing bath.

:: WATERFALL THE VEIL OF THE NYMPHS
It is located in the town of Tambillo, after 25 minutes by car transportation, it begins a long walk to arrive at this exotic place. It is specially for the lovers of the adventure, the time of walking is approximately two hours. Helped by experienced people, you will make a little climbing in some places, crossing 13 cascades, enjoying of the flora and fauna natural in this zone, until arrive to the magical waterfall. For the ones that prefer a calm visit there is a another route that takes about 50 minutes walking to arrive to this place.

:: GLORIA PATA, LAS PALMAS
In this zone, located 40 minutes from the city in car transportation, it begins and adventure trekking, crossing a suspension bridge, entering to the thickness of the forest, appreciating in this way butterflies mofoelena, and arriving to this waterfall after one hour.

:: MILAGROS LAGOON AND VIVERO VELA
Located in the locality of Pendencia, 25 minutes away from Tingo Maria, in a extension of 40 mts2, there are two lagoons where you can sail in boats, practice fishing sport and appreciate the flora and fauna of this interesting place. After when you return you will stop in the Vivero of the family Vela, where you can appreciate the varieties of heliconias, ornamental orchids and plants that are cultivated here for the national and international sale.