LAMBAYEQUE - CHICLAYO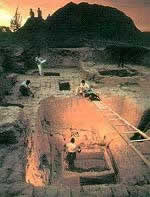 TURISTIC PROGRAMS IN CHICLAYO
:: LAMBAYEQUE - CHICLAYO
Capital: City of Chiclayo
Altitude: 29 m.a.s.l.
Distances:
Lima 670 kilometers.
The province of Lambayeque is located on the Northern coast of Peru. Forests, valleys and desert zones are mixed.
Chiclayo, located in a rich, agricultural region, is a city with a warm climate. The city turned into an important economical and commercial center in the North of Peru.
An active city in the full process of modernization, Chiclayo is the center of different communication ways. Thus, an intense commercial traffic is carried out, between the towns of the North coast, the amazon and the mountains.
In Chiclayo it is interesting to visit:

:: NATURAL MUSEUM OF SICAN
Modern museum result of 23 years of investigation. You will see details of the daily life of the habitants of the culture SICAN, the process of preparation of ceramics, precious metals in addition to the tombs found with gold objects.

:: ARCHAEOLOGICAL COMPLEX OF HUACA RAJADA
Archeological site Huaca Rajada (Señor de Sipan), located at 35 kilometers from Chiclayo. Place where in 1987 the intact remains of a dignitary of the mochica hierarchy - warrior priest - was found. The important discovery can only be compared to the finding of the tumb of the Egyptian Pharaoh Tutankamon in 1922.
The construction is formed by a low platform and two pyramids of adobe. In the finding, the tumb of the dignitary turned out to be accompanied by the remains of a warrior, a priest, two women, a child, a llama and a guardian with the feet cut out. Besides of numerous jewels of gold and silvers.

:: REAL TOMBS OF LORD OF SIPAN MUSEUM
Museum of recent inauguration, it conserves all the material collected by the Dr Walter Alva in the archaeological excavations of the Complex Sipan HUACA RAJADA, the exhibition shows the "Lord of Sipan" next to all his jewels, some tombs of Moches soldiers and important gold pieces. The architecture of the museum is inspired by the old Mochicas Sanctuaries where platforms are combined. At the moment this museum is considered one of the best museums of South America.

:: TUCUME PIRAMIDS
Archeological site of Tucume or Valley of the Pyramids, is characterized by its 26 pyramids; among which La Huaca del Pueblo, La Raya, El Sol and Las Estacas stand out. It located at only one kilometer from the town of Tucume, a community committed with the conservation of its natural and cultural patrimony. This site dates back from 700 A.D. and it constitute a second political center of the SICAN after the Forest of Pomac.