PERUVIAN CENTRAL JUNGLE
CHANCHAMAYO - OXAPAMPA - POZUZO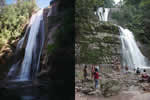 TRADITIONAL PROGRAMS IN THE PERUVIAN CENTRAL JUNGLE
:: CENTRAL JUNGLE: INFORMATION AND TURISTIC DESTINATION
The Chanchamayo Valley is a beautiful jungle area in the department of Junín. It is situated 300 Km. east of Lima and is only one day driving from there. During that spectacular journey you will see all natural regions of Peru in just one day: Coast, mountains and jungle; from the dry deserts outside Lima to high snowcapped mountains and crystal clear mountain lakes, sleepy Andean towns, through tropical cloudforests until you reach the edge of the Amazon basin: Chanchamayo.
There are two important cities in this region, San Ramon and La Merced. The Chanchamayo region is also called La Selva Central, the central jungle. It is an important fruit and coffee producing area. The Chanchamayo region is situated in the eastern, jungle-covered foothills of the Andes. It is an area of exceptional natural beauty.
La temperature goes from 27ºC to 30ºC, the weather is humid.
In Chanchamayo it is interesting to visit:

:: LA MERCED / SAN RAMON
City tour to the cities of "San Ramon" and "La Merced". Visit to the Main Square of La Merced. Mini Plant Processor of coffee to export. We will also visit the waterfalls of Tirol. Panoramic of the formation of the Perene River. Visit to the Ashaninka community of Pampamichi: Botanical garden with 2.000 different species of wild plants.

:: OXAPAMPA
Arrival to Oxapampa; after we will initiate our walk through the main square of the city, we will visit its tipical European Church made of wood Santa Rosa, also we will visit the Cave Tunqui, subterranea mythical cave, where bats can be observed. Visit to the "Trapiche el Huarapo" where the cane brandy is elaborated, we will go to milk plant of Oxapampa where we will appreciate the elaboration and tasting of its milky products.

:: POZUZO
Unique colony Autro-German in the world, in the way we will pass by the towns of Quillaza, Chorobamba, and in the Huancabamba canyon we will stop in the waterfalls of Rayantambo, after we will arrive at the district of Pozuzo. In the evening we will walk of recognition of its streets and the main square, the chapel of San José, located in front of the square, where the monument to the Priest Jose Egg cofounding of the colony is, and finally we will visit the Museum Francisco Schafferrer.